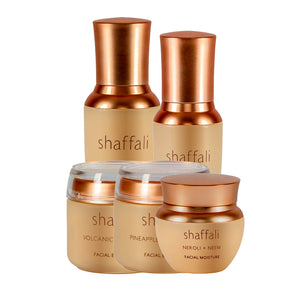 With the Complete Face Ritual, you will experience the full Shaffali Facial. You will receive maximum benefits through this sensory experience of mindful breathing, aromatherapy and the most purifying and restorative ingredients. Treat your mind, body and spirit to this spa facial in the comfort of your own home.
The Complete Face Ritual Includes:
Lavender + Turmeric Facial Cleanser
Pineapple + Peppermint Facial Exfoliant
Volcanic Ash + Sage Earth Mask
Crystal + Rose Aura Amplification Mist
Neem + Neroli Facial Moisturizer
Absolutely Amazing
Such an amazing product and so gently on the skin. I love the packaging and fast shipping! Absolutely obsessed with the whole set!
Wonderful!
I love the smell of all of the products and the mantras you're encouraged to say while using them (ie "I am replenished", "I am pure"). Many years ago, I worked to promote Shaffali products in NYC and I'm glad to say the quality is still just as I remembered, even better.
I LOVE THEM!
I just started using my Shaffali products last week and I LOVE THEM! My face looks and feels great and because of my love of Ayurveda, the quality of the product and the great smells, I get excited about my face ritual every day. I can definitely tell that you have put a lot of effort and love into the product! Thank you!
Loved the results
I did the shaffali facial this morning and loved the results. My skin was so much more refreashed and bright. I really love your products and I could feel the difference.