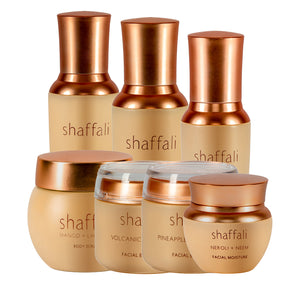 With the Complete Face + Body Ritual, you will experience the full Shaffali Facial and Body Treatment. You will receive maximum benefits through this sensory experience of mindful breathing, aromatherapy and the most purifying and restorative ingredients to heal your mind, body and spirit with this spa experience in the comfort of your own home.
The Complete Face + Body Ritual Includes:
Lavender + Turmeric Facial Cleanser
Pineapple + Peppermint Facial Exfoliant
Volcanic Ash + Sage Earth Mask
Crystal + Rose Aura Amplification Mist
Neem + Neroli Facial Moisturizer
Mango + Lavender Body Scrub
Sandalwood + Geranium Body Moisturizer
As a Holistic Health Practitioner I advise my clients to purchase Shaffali Skincare products. In fact, I have recently launched a program that promotes revitalization of body & soul in three short months. Shaffali Skincare products are the line that I am using as part of this program. The first experience I had with Shaffali was a spa-style service… with her personal instructions of warm & cold rinse, steam and circular rubbing etc! The aromas and the stimulation of the skin during the process was a delight and the end results were profound! I began using the full set of products right away! At-home use is such a blessing. The quality of the products always makes me feel special and the aromatherapy has a real impact on my experience. As a forty-year-old Holistic Health Practitioner I always get compliments on how young I look… and I intend on using Shaffali to keep it that way! Thanks to Shaffali for creating such beautiful products for my skin!
Thank you!
I am a yoga student at Ja Yoga in Long Beach & tried your samples last week. Within a week I bought everything except for the cleanser & bought an extra Orange Blossom + Neem Facial Moisturizer for my daughter. I can't tell you how amazing your products are. Honestly, I have never noticed ANY product that really made my skin look and feel better…. My daughter, well, lets just say she knows her way around Sephora, etc., (haha) – She says she can't believe the moisturizer – just incredible. Thank you so much for putting this out….by far the best I've tried & in my 59 yrs. I've tried A LOT!!
These products smell really unique.
These products smell really unique. I have every product and each one gives you a totally different experience- they smell exotic and very calming at the same time. The formulas leave my skin feeling so soft and perfectly moisturized- never greasy. I love love love your products! They smell absolutely heavenly and make my skin glow. Congrats on a truly wonderful skincare line!