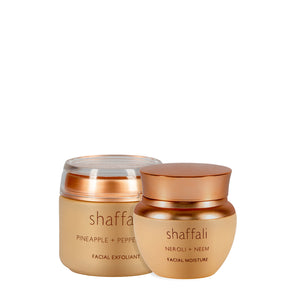 The Balance Face Ritual is best for Normal, Oily, Combination and Pitta Skin types.
With the Balance Face Ritual, you will experience an invigorating and beautiful matte glow.
The Balance Face Ritual Includes:
Pineapple + Peppermint Facial Exfoliant 
invigorating facial scrub that gives skin a healthy glow through increasing circulation with peppermint and rosemary essential oils
removes excess oil and dead, dull skin cells with papaya and pineapple enzymes (papain + bromelain), leaving a matte glow
can be used as a enzyme mask for those who have irritable skin, which will still remove dead and dull skin, providing a gentle glow
This is our Ritual for Detoxification and is best used after steaming the skin
Neem + Neroli Facial Moisturizer 

Rich facial moisturizer which contains essential fatty acids and vitamin E through the Neem tree extract.
Tones the skin through increasing skin elasticity with Neem extract
provides necessary hydration even for skin with active sebaceous glands (oil production) while simultaneously being naturally anti-bacterial with Neem extract.
Neroli is one of the most luxurious essential oils for its beautiful floral and fresh fragrance - which is made from 1,000 lbs of Italian Orange Blossom flower petals (to make 1 oz of the oil!).
Use sparingly on t-zone for a great hydrated glow 
This is our Ritual for Replenishment, a perfect compliment to apply after using the products that take away excess impurities from the skin, such as our Cleanser, Exfoliant and Mask.