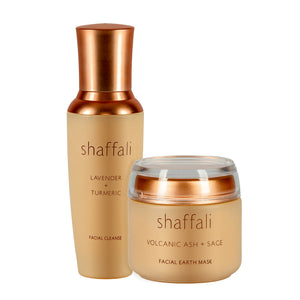 The Clear Ritual is perfect experience for calming Normal, Acneic and Kapha Skin types.
With the Clear Ritual, you will experience deep cleansing and clearing of impurities without feeling stripped. Deep detoxifications and remineralization with key ingredients rich in nutrients, including turmeric, chickpea, volcanic ash and sage leave your skin feeling silky, soft, smooth and relaxed.
The Clear Face Ritual Includes:
Lavender + Turmeric Facial Cleanser

Deeply cleansing without feeling stripped due to the gentle yet effective mix of Ayurvedic herbs, spice and essential oils.
A rich golden skin softening facial wash that clears away impurities with turmeric, salicylic acid and sandalwood.
This is our Shaffali Ritual for Purification which happens for skin and spirit - the aromatherapy of French Lavender and Egyptian Geranium transports you to a spa, providing deep and uplifting relaxation. These oils not only calm the spirit but also the skin.

Volcanic Ash + Sage Earth Mask

Brightening mask which is able to gently pull impurities from the skin with volcanic ash, turmeric, sandalwood and bentonite, while infusing it with rich nutrients and minerals.
Can be used as a spot treatment for acne and inflammation.
This is our Shaffali Ritual for Renewal, which is perfect to be paired with a guided meditation as well as cool cucumbers or moistened tea bags for the eyes. The aromatherapy of Croatian Sage heightens confidence of the spirit.
Soooo good!
My esthetician uses Shaffali and I had to have it. The scent is so refreshing and relaxing. Since using Shaffali my face is clearer (I had breakouts on my chin & jawline), brighter and smoother.