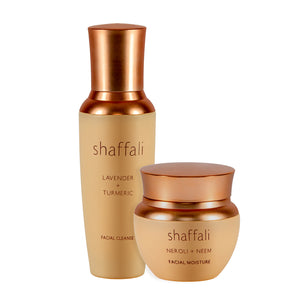 The Restore Ritual is best for Normal, Dry, Combination, Mature, Sensitive Vata Skin types.
The Restore Face Ritual gives life to dull skin due to a lack in hydration (water) or a lack in the sebaceous gland production (oil) that feels sluggish and needs nurturing. As a bonus, you will feel deeply relaxed, uplifted and inspired through the aromatherapy of these products.
The Restore Face Ritual Includes:
Lavender + Turmeric Facial Cleanser

Deeply cleansing without feeling stripped due to the gentle yet effective mix of Ayurvedic herbs, spice and essential oils.
A rich golden skin softening facial wash that clears away impurities with turmeric, salicylic acid and sandalwood.
This is our Shaffali Ritual for Purification which happens for skin and spirit - the aromatherapy of French Lavender and Egyptian Geranium transports you to a spa, providing deep and uplifting relaxation. These oils not only calm the spirit but also the skin.
Neem + Neroli Facial Moisturizer

Rich facial moisturizer which contains essential fatty acids and vitamin E through the Neem tree extract.
Tones the skin through increasing skin elasticity with Neem extract
provides necessary hydration even for skin with active sebaceous glands (oil production) while simultaneously being naturally anti-bacterial with Neem extract.
Neroli is one of the most luxurious essential oils for its beautiful floral and fresh fragrance - which is made from 1,000 lbs of Italian Orange Blossom flower petals (to make 1 oz of the oil!).
Use sparingly on t-zone for a great hydrated glow 
This is our Ritual for Replenishment, a perfect compliment to apply after using the products that take away excess impurities from the skin, such as our Cleanser, Exfoliant and Mask.
Amazing
I love these products so much, I have sensitive skin and have a hard time finding a cleanser that doesn't irritate my skin and this is pretty much the only one I have found after years of searching. I love the moisturizer as well. My skin feels clean, clear, happy, and moisturized! I also love the affirmations on their products!
luxurious product
Cleanser and cream are both wonderful. Feels and smells so exotic and works great