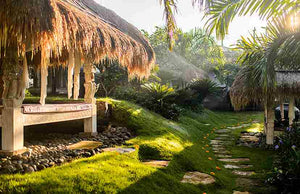 Includes :
Daily breakfast
Welcome drink upon arrival
Daily usage yoga shalla
Six time lunch and Dinner
Two time 60 minutes massage for each guest (3 seasons/stay – choice of Balinese/ Deep tissue / Hot Stone)
Complimentary "Boreh"class(balinese ancestral warming balm herbal preparation) every Monday, Wednesday and Friday at 13.30 hours (advanced reservation is required)
Complimentary "Jamu'class (prepared and taste our traditional curcuma healing drink) every Tuesday, Thursday and Saturday at 13.30 hours (advance reservation is required)
Nestled on the side of a hill—some might say between the heavens and Earth—and surrounded by lush rice paddies and ravines covered in rainforest, Blue Karma Dijiwa Ubud exudes ethnic chic luxury for travelers looking to escape to a serene spot where you can relax, rejuvenate, and delve into Balinese culture and nature.
Stay at our Bali luxury resort to discover the hidden corners of this charming town. Ubud is the cultural heart of Bali with a plethora of art galleries, temples, boutique shops, and restaurants. This is also a place where you can experience what life is like in the Balinese countryside. Bask in the peacefulness of the local village where all living beings are one or let nature guide your days, from rising with the roosters to cooling off as the sun sinks below the horizon.
At Blue Karma Dijiwa Ubud you don't need to leave the resort to immerse yourself in the natural surroundings. Luxuriate in the comfort of our rooms and you'll be treated to sweeping views out of the large windows that let in natural light and gentle breezes. Some of our rooms also have semi-outdoor bathrooms where you can gaze out at verdant gardens and the unique wildlife that inhabits them.
To book this exclusive Shaffali experience:

20% deposit required by ______. Refundable in full if cancelled before ____. 50% refund if cancelled before ______.
Balance due 30 days after initial deposit.